Every business is unique, as are your security needs. If you're looking for an affordable, adaptable solution to the protection of your wealth, the Megacrete Modular Vault could be exactly what you are looking for.
Providing a versatile, cost-effective solution for slab-on-grade applications, the Megacrete Modular Vault System from International vault is an adaptable, heavy duty vault system that is ready to protect valuable assets for wide variety of industries.
Exceeding Industry Standards
The Megacrete Modular Vault System has been performance tested by Underwriters Laboratories to meet UL 608 Standards and GSA AA-V-2737 Standards. As UL and GSA have the most stringent testing practices in the world, our product certifications translate to equivalent Health Canada, SAVS, and European Standard 1143 for worldwide vault conformance.
Megacrete Vaults feature International Vault's most heavy-duty design, including butt-joint construction and high security panels, assembled in 5 or 6 sided systems, depending on the conformance of the floor to security standards.
Vault Construction
Using superior concrete technology and state-of-the-art quality control systems we guarantee a consistent, high quality, construction grade product.
Our vault panels are match-cast using high quality forming material in a temperature controlled environment to ensure the strongest, most efficient curing possible.
Each slab contains both vertically and horizontally oriented rebar to form an impenetrable grid of reinforcement.
High-strength concrete is vibrated thoroughly to ensure that there are no air pockets.
Our panels are cast in our horizontal match-cast system to allow for thorough visual inspection.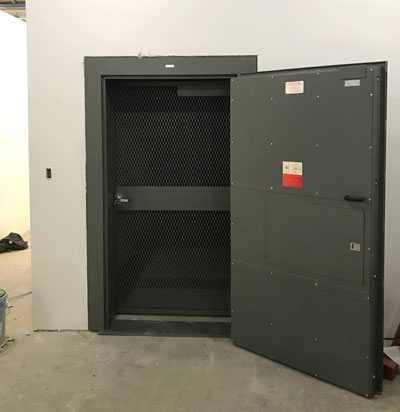 Megacrete Vault Installation Process
The installation process of a Megacrete Modular Vault System typically involves:
Installation of Swivel Lift Anchors during initial construction to ensure the safety of our product and installation team during rigging.
Setting the entire vault floor and welding panel to panel connections on-site.
Erecting one of the vault corners to allow rigidity to support the vault walls.
Erection of the vault walls and installation of the ceiling.
Welding performed by expert welders to ensure maximum structural soundness and burglary resistant connections.
Although UL doesn't require full seam panel to panel welds, caulk can be used to provide seamless transitions from panel to panel depending on owner finishing preference.
The function of our corresponding UL Rated Excalibur Vault Door depends on the overall panel installation quality as the jambs and header are installed in direct contact with the vault walls, floor, and ceiling. In general we recommend leaving 2-3" between the exterior of vault walls and any existing adjacent walls for alarming and install rigging purposes.
For installation we also recommend 6" of clear space between the top of the vault ceiling panels and bottom of interior room ceiling or low hanging objects.
Megacrete Product Types and Specifications:
| | | | |
| --- | --- | --- | --- |
| Panel Class | Thickness | Weight | Typical Width |
| GSA 2737 | 4" | 51 | 24" |
| UL Class M | 3" | 39 | 36" |
| UL Class 1 | 3" | 39 | 27" |
| UL Class 2 | 5" | 65 | 36" |
| UL Class 3 | 8.5" | 110 | 30" |