International Vault offers turnkey solutions to government and military agencies by providing vault systems that have already met the rigorous specifications and testing called for by the General Services Administration (GSA) and Military Handbook 1013/1A for modular vaults, vault doors, and pre-assembled modular armories.
GSA Certifications Met or Exceeded
Federal Specification AA-V-2737 covers all of our GSA Rated modular panel products, including our MegaCrete, MacroVault, and Lightweight Vault offerings.
Federal Specification AA-V-2940 covers our pre-assembled modular armory product.
Federal Specifications AA-D-600A and AA-D-600D cover our GSA Rated, Class 5 vault door, the Scimitar.
Because we can build modular vaults in any size and configuration, from the use of lightweight panels to slab-on-grade MegaCrete vault solutions, International Vault is often called upon by government agencies, military branches, and police departments to protect:
Weapons and ammunition
Tactical equipment
Sensitive and classified records
Evidence room contents
All of our military and government grade products must pass Underwriters Laboratories (UL) testing before going on to achieve Government Service Administration (GSA) certification.
Meeting the Requirements of Military Handbook 1013/1A
International Vault offers turnkey solutions by providing modular vault construction meeting the Minimum Construction Requirements detailed in MIL-HDBK-1013/1A, section 5.4 for both Class A Maximum Protection and Class B Adequate Protection vaults.
Class A Vaults penetration specifications (Table 10, page 106 - MIL-HDBK-1013.)
For Class B Vaults penetration specification (Table 11, page 109 - MIL-HDBK-1013.)
Vault Doors for both Class A and B vaults must meet Class 5 federal specification AA-D-600C.
International Vault is the only company in the world making a lightweight modular panel meeting GSA certification.
The Military Handbook ratings are comprehensive, covering both vault panels and vault doors, as well as locks and video/audio surveillance and communications systems.
Pre-Assembled Modular Vault Armory
Law enforcement and government agencies have made it clear that one of the most valued security solutions offered by International Vault is our Pre-Assembled Modular Vault, Armory.
These pre-assembled vaults can be customized for a variety of applications, from mobile armories dropped into forward operating environments to tactical equipment and weapons rooms added to police stations without the need for new construction.
Modular Vault armories come in both concrete panel and lightweight configurations.
The reasons to choose International Vault are clear:
Security - over 30 years maintaining the cutting edge of vault engineering
Affordability - International Vault delivers value on-time and on-budget
Simplicity - assistance in streamlining lengthy acquisition processes
Modular vault solutions provide maximum flexibility and value, and International Vault's experience in customization means we have your unique application covered.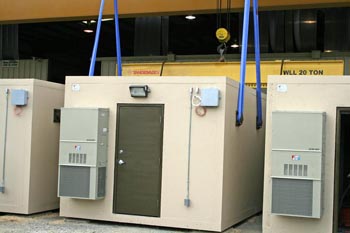 We Also Offer Wire Cage Solutions
SecurityCaging.com by International Vault offers turnkey solutions to government and military agencies by providing caging systems that exceed the stringent specifications and testing required by the General Services Administration (GSA).
SecurityCaging.com has completed several caging systems for various divisions of the US Government. Many military bases often require these secure storage areas for weapon and sensitive information storage.
Learn more by visiting the website of our in-house wire caging division, Security Caging, and our page on Military, Government, and Law Enforcement Security Caging.
To learn more, visit our easy-to-use contact form, or call us at 833-311-3132.