Jewelry and Precious Metals
When it comes to storing jewelry, precious metals, and collections of valuables, both commercial and residential customers turn to Modular Vault and MicroVault storage solutions from International Vault.
MegaCrete Modular, Lightweight Modular, and Microvault  storage offer high-end intrusion and theft prevention for all types of applications, including size and weight restricted applications.
Designed and built using UL 608 rated Lightweight Vault Panels in conjunction with an Excalibur Vault Door, Modular Vaults and MicroVaults have greater usable interior space than safes of similar size at a fraction of the weight.
MicroVault and Modular Vault Systems can be built in a variety of size configurations to meet the demands of the application and allow for significantly easier relocation than comparable traditional safes.
This vault system can also be expanded later on by one of our installation teams through simply adding additional panels.
To learn more, including access to downloadable brochures, visit our Modular Vault and MicroVault pages, or call us today at 833-311-3132.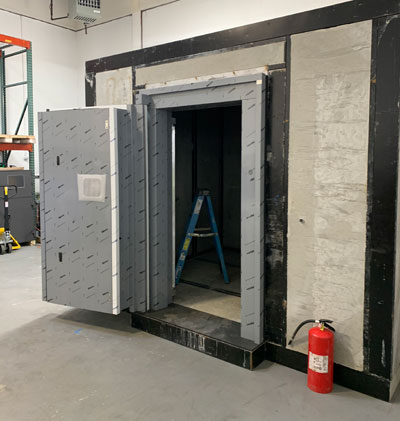 A Safe Alternative
Whether you are considering a jewelry safe for your home or secure precious metals storage for your business, a Modular Vault or MicroVault provides advantages over traditional safes in several regards:
More usable space.
Available in several different sizes.
Customizable to meet specific storage needs.
Less than half the weight of a traditional safe.
Expandable.
Customers looking to store extremely valuable jewelry like precious stones, necklaces, bracelets or expensive watches need look no further than International Vault.
Contact us to learn more about the our Modular Vault and MicroVault solutions, or give us a call today at 833-311-3132.
Vaults for jewelry storage can come in several different sizes and options.
Please Contact Us today to learn more about the options that International Vault can provide to protect your valuable jewelry and precious metals.