Storing Classified Information
The safety of classified information requires specialized storage, including vault systems and vault doors meeting specifications set forth by the General Services Administration (GSA).
At International Vault, our product line includes multiple GSA rated modular vault options that meet or exceed GSA and Military Handbook requirements for the storage of classified information. Our modular approach provides the ability to customize for any circumstance while maintaining strict adherence to required specs.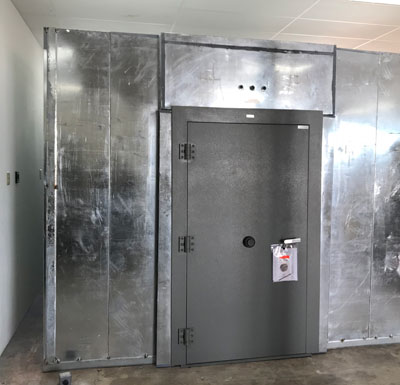 Meeting Government and Military Vault Specifications
International Vault routinely provides physical security solutions to the Army, Navy, Air Force, and Marines by meeting both GSA and Military Handbook certifications and requirements for:
Modular Vaults
Vault Doors
Pre-Assembled Modular Armories
All of our military and government grade products must pass Underwriters Laboratories (UL) testing before going on to achieve Government Service Administration (GSA) certification.
Because we can build modular vaults in any size and configuration, from the use of lightweight panels to slab-on-grade Class A vault solutions, International Vault is the industry leading choice for classified information storage.
International Vault also meets the Minimum Construction Requirements detailed in the Military Handbook MIL-HDBK-1013/1A, section 5.4 (pages 105-108) for both Class A Maximum Protection and Class B Adequate Protection vaults.
Finally, International Vault is the only company in the world making a lightweight modular panel meeting GSA certification.
The Military Handbook ratings are comprehensive, covering both vault panels and vault doors, as well as locks and video/audio surveillance and communications systems.
Contact us today or give us a call at 833-311-3132 to learn more about storing classified information from International Vault.